A Samsung teaser video may have given us a close look at the Samsung Galaxy X. Plus, the foldable phone is all but confirmed to be landing on February 20.
We could have recently gotten our first real look at the Samsung Galaxy X – or Samsung Galaxy F, Samsung Galaxy Fold or Samsung Galaxy Flex as it might be called – at the Samsung Developer Conference.
Samsung revealed something huge: its first foldable screen, which opens clamshell-style and flattens out for a tablet-sized display. The Infinity Flex Display, as the tech is called, is an entirely new direction for Samsung smartphones that required the development of new materials and processes to make it functional.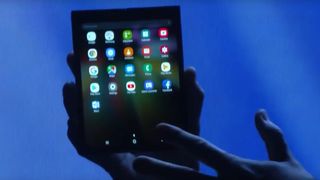 What's less clear is whether we saw the Infinity Flex Display mounted on the Galaxy X itself, or whether that was simply a placeholder phone to show off the screen. Samsung literally revealed it from the shadows to hide the design.
You can rewatch Samsung's keynote from the Samsung Developer Conference on YouTube if you want to see the possible unveiling of the Galaxy X
In the meantime, you can read everything we know so far below. The Samsung Galaxy X launch has been rumored for a few years, and the leaks continue to roll in about the firm's fabled foldable, flexible, bendable smartphone.
We've gone through all the flexible Samsung smartphone leaks, from the first reports of a folding phone back in 2011 to the most recent reports naming the Samsung Galaxy X, Galaxy Flex and Galaxy F directly.
There's a lot to unpack from several years, but it now feels like we're getting close to a Samsung Galaxy X launch date, and things are beginning to get a little clearer on what we may be able to expect.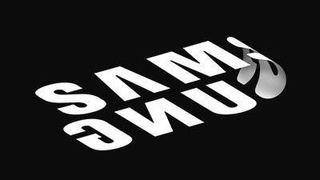 Cut to the chase
What is it? Samsung's much-rumored folding smartphone
When is it out? Probably February 20
What will it cost? It'll likely be one of the most expensive phones around
Samsung Galaxy X release date and price
The Samsung Galaxy X could land on February 20. That's when Samsung is set to announce the Samsung Galaxy S10 range and Samsung has more or less confirmed in a billboard advert that we'll also see its folding phone there.
Apparently, the company was planning on an MWC 2019 launch roughly a week later but has brought it forward to get ahead of Huawei, which itself is rumored to be announcing a foldable phone at MWC.
We had previously heard that the phone would get a proper announcement at some point in February, so this isn't totally surprising.
Of course, this is just an announcement that we're talking about. The Galaxy X probably wouldn't actually go on sale before March 2019, or maybe until April even.
Samsung for its part has said that the phone will launch in the first half of 2019 in "select markets" and that at least 1 million units will be produced.
However, it's rumored to be exclusive to the EE network in the UK (with the Samsung store also selling it SIM-free). Whether there will be other network exclusives elsewhere in the world is unknown.
You may have to pay a lot for it too, as the latest report, coming from a source that apparently works for Samsung, is that there will be multiple models ranging from around £1,500 (approximately $1,930 / AU$2,660) to £2,000 (roughly $2,570 / AU$3,550).
That's even more than earlier estimates, with for example an analyst reckoning previously that the Samsung Galaxy X price could reach ₩2,000,000 (around $1,850, £1,375, AU$2,400). That's a price we've heard more than once, but again, the £1,500-£2,000 price above is more recent.
Samsung Galaxy X leaks and news
Our clearest look yet at the possible Galaxy X comes from Samsung showing off theInfinity Flex display it will be using. It's a clamshell design that can be unfolded to provide you with a big tablet screen, or folded down to more of a smartphone size.
We've also now seen a teaser video which shows a phone of a similar design, albeit a lot more polished. It's slim and has tiny bezels. We only see it for a couple of seconds though and it's possible that this is a concept device rather than the actual Galaxy X that Samsung is set to launch.
Prior to all that, in November 2017 we got a look at the possible interface of the Galaxy X, revealing a familiarly Samsung UI, but where each half of the display shows a different screen, rather than just making everything bigger or smaller.
This interface was shown in a patent, which also gave us another look at the possible design of the phone, showing something with a laptop-like design, but a second screen where the keyboard would be.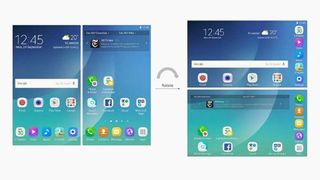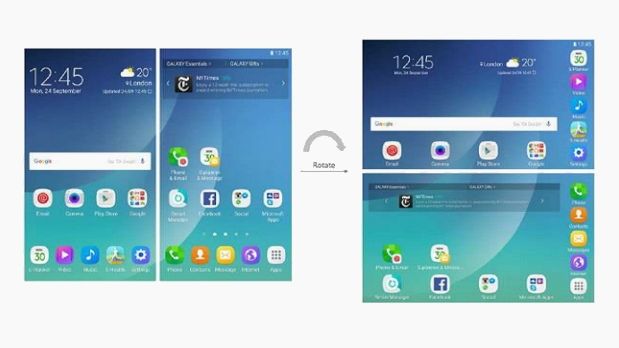 The announcement of the Galaxy F seems to be on schedule, as in early 2018 an industry source claimed Samsung would likely start producing the phone – which will apparently have a 7.3-inch display – in November 2018, with a launch likely in December or early 2019. That matches what DJ Koh has since claimed.
However, given that we only just got a partial look at the phone, a proper launch in early 2019 seems more likely than December.
Meanwhile Samsung's Q4 2017 financial results 
included claims
 that foldable OLED panels and phones could be a big money-maker for Samsung in 2018 and beyond – which is yet more evidence that the Galaxy X is coming soon.
In May 2018 we heard that Samsung had apparently changed the phone's codename from 'Valley' to 'Winner' and that the final handset will be made up of three 3.5-inch screens, which can be opened out to tablet size or folded like a book.
Apparently, the screens for this device will be ready by November 2018 and Samsung has created a curved battery for the phone with a capacity of between 3,000mAh and 6,000mAh.
That claim is at odds with a newer rumor though, which says the phone will actually have two 3,100mAh batteries, for a 6,200mAh capacity in total. Either way, though it sounds like the Galaxy X will have a lot of juice.
Recently we've also heard that the Samsung Galaxy F – which could be the launch name for the phone – will have 512GB of storage, dual-SIM support, and the model number SM-F900U. Apparently, the firmware is also in testing, which suggests it's coming soon.
Another source meanwhile has said there could be either 512GB or 1TB of storage along with 12GB of RAM.
Additionally, the Samsung Galaxy X might have a triple-lens rear camera according to one source. They say that it will offer similar performance to the rumored triple-lens camera on the Samsung Galaxy S10 Plus, and that it will include a super wide-angle lens.
Another report, this time out of the Wall Street Journal, says that the internal name for the phone is the Samsung Galaxy Flex, so that also could be what it launches as.
Samsung Galaxy X: 8 years in the making
The idea of a foldable phone isn't new to Samsung, in fact way back in 2011 the company showed off a prototype of exactly that.
The device looked chunky and awkward, but even back then it somewhat worked, remaining intact after 100,000 folds, with only a 6% drop in brightness at the center, where all the folding action happened.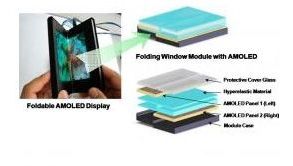 It could fold out from a phone-sized screen to a tablet-sized one, showing Samsung's ambitions for the technology. Now, technology hasn't advanced quite this far, so don't expect the Samsung Galaxy X to be just a folding screen – but the vision is an interesting one.
And as 2012 came to a close it seemed Samsung might be overcoming its production problems, with another report claiming that its flexible plastic screens were in the final stage of development, with the first phones sporting them likely to land in mid-2013.
Samsung's bendy plastic screens got a more real-world debut at CES 2013, along with a name – they were now called 'Youm', though it was clear from the flexible prototype on a show that Samsung was still far from putting a Youm display on a commercial device.
That was made even more clear when the tech was reportedly hit with new manufacturing issues in April 2013.
Supposedly the previous problems had been solved, but now Samsung was apparently struggling with the encapsulation technology, which protects the screen from moisture and air damage.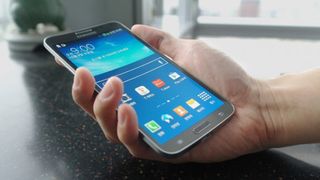 The closest thing we actually got to a foldable phone from Samsung in 2013 was the Samsung Galaxy Round. This was far from the prototypes and concepts we'd seen, but as the world's first curved screen smartphone it was a big step in the right direction.
That was followed up by the Samsung Galaxy Note Edge, which curved in a now more familiar direction, one which Samsung has since fully embraced and features in its latest flagship handsets including the Galaxy Note 9, Galaxy S9and S9 Plus.
Talk of foldable phones went a bit quiet until mid-2015, when it was rumored that an upcoming phone codenamed 
Project Valley
 could be foldable.
At this point little was known about the device, which would apparently have two screens, but it was said to be in early development, so was unlikely to arrive for a while, if at all.
In September 2015 an "insider" claimed that we'd see a bendable phone in January 2016. It wasn't clear whether this was Project Valley or not, but apparently, it would come in both mid-range and high-end flavors. Though, of course, it didn't arrive at all.
In May 2016 Project Valley got a new name – the Samsung Galaxy X, which was believed to be the name it would release under.
According to reports at the time, it would be ready for release in 2017 and would have a foldable 4K display so that the resolution would remain high even when the phone was folded.
We were skeptical about that launch date at the time and were right to be, as we're now in 2018 and still haven't seen it – though we might be about to.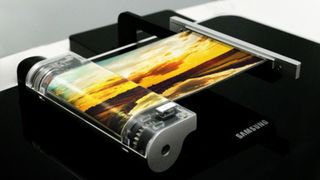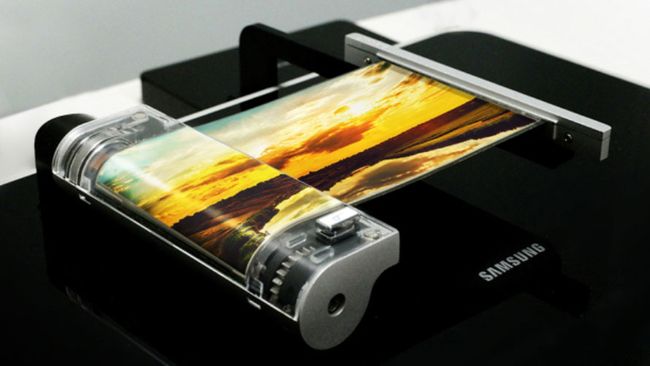 But that's not quite the full story so far. At SID 2016 Samsung showed off a roll-out display (above) – but one which didn't have a touchscreen layer, which would be pretty vital for a smartphone.
Then in June 2017 "people familiar with the matter" reported that we might see two foldable phones from Samsung in 2017 – backing up that previous Galaxy X reports.
Supposedly one would fold out from a 5-inch handset to an 8-inch tablet, much like the concept video Samsung showed back at the beginning of our story, while the other would fold in half like a cosmetic compact, along the lines of a folding phone patent we'd already seen.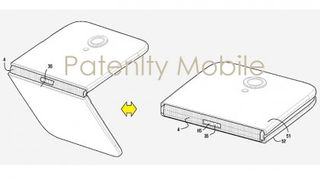 This 2017 launch didn't happen, but Samsung was clearly on the right track, with another patent looking to solve one of the biggest problems with folding phones – the ability to fold without damaging any internal components.
The patent described an "artificial muscle", which would move in time with the screen bending to protect other components.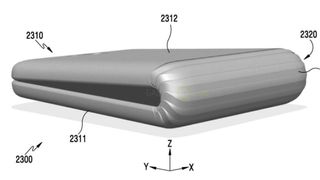 Another patent, spotted by GalaxyClub, highlighted a long device, with a shape more like a remote control than a smartphone, but one which could fold down to half the size.
The shape doesn't seem particularly practical, so we doubt this is the form the Galaxy X will take, but it's vaguely along the lines of the phone-to-tablet convertible we've been hearing about, and a similar design has popped up since.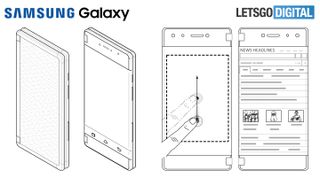 One of the more recent bits of information that may point to the foldable X looks different than previous info. Much like the ZTE Axon M that came out in 2017, images from a patent filing (shown above) show off a bezel-licious device that folds in a clamshell design.
So there were lots of signs of the phone being developed, and according to some sources, more than 100,000 units were going to roll out in the third quarter of 2017 – though they added that plans for a 2017 launch could apparently be changed, which has clearly happened if any such plans ever existed.
Source: https://www.techradar.com/news/samsung-galaxy-x-foldable-phone


This work is licensed under a Creative Commons Attribution 2.0 Generic License